Ten43 goes to Washington, DC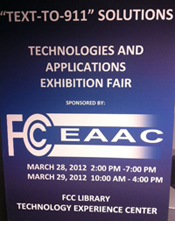 A few weeks back, the FCC asked if Ten43 was interested in presenting Advanced 911 at their "Text-To-911" Mobile Solutions exhibition. The FCC's Emergency Access Advisory Committee (EAAC) is tasked with looking for a "text-to-911" mobile solution that can be rapidly deployed to provide nationwide access to 9-1-1 services to people with disabilities during the transition to NG911. There was no way we could pass up the invitation so we worked feverously to get our exhibit and demonstration finely tuned, booked our travel and headed out to DC to show off our solution.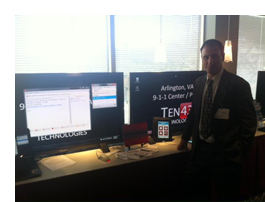 The turnout was beyond our expectations, the FCC, PSAPs, people with disabilities, NENA, APCO, carriers and the community in general flew from all over the nation to see the texting solutions. And we loved talking to all of them. The event itself was an amazing learning experience. We made a lot of great friends and learned a lot firsthand about what people want from our texting solution and how they would use it. There is no better learning experience than demoing to people over and over and over. Since we love nothing more than getting feedback and improving our solution, it was a pretty amazing few days. FCC EAAC Website
New reports for 911 Centers
911 Centers (PSAPS) have been asking for enhanced reporting that allows them to see their response time for text requests for service, the types of service being requested by text, and a break down by specific areas. To meet this need we developed several new reports and a snap shot report for command staff. To further enhance usability, the data is also available in Excel allowing you to easily get the information you want in your preferred format.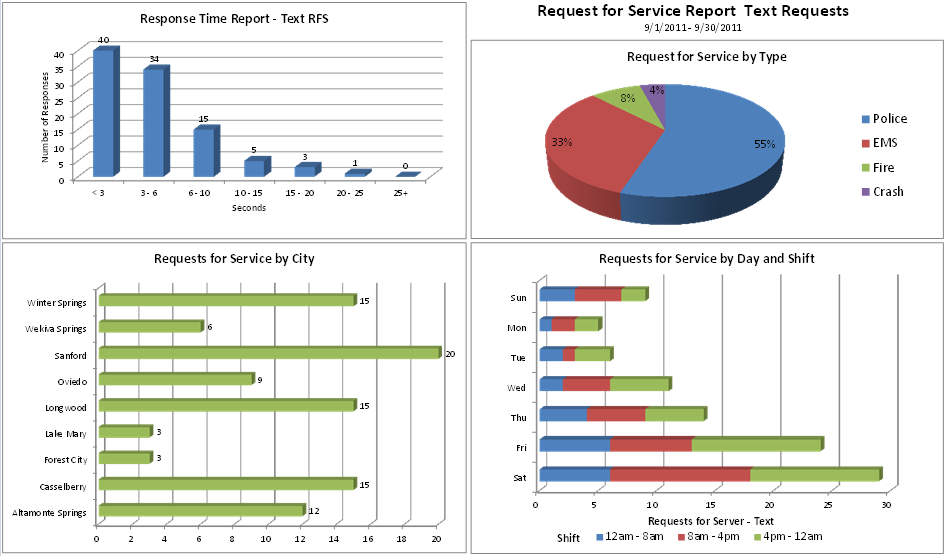 Advanced 911 meets FCC's immediate need for a smart phone 911 texting solution.
On September 23rd the FCC released a NOTICE OF PROPOSED RULEMAKING for NEXT GENERATION 911 (FCC-11-134A1.pdf), that stated they were interested in a short term texting solution that could be deployed quickly and cost effectively. Advanced 911 meets this need as it is available today and is extremely cost effective. The smart phone application is free, while the PSAP component is available on a monthly basis without any up front charges. Advanced 911 has additional benefits, including photo transfer, GPS location with updates, and text messaging to friends and family with your location for areas where the local PSAP isn't participating. Contact us to learn more.
Apple approved Advanced 911 for the App Store today. Set to go live September 12th on iTunes.
Advanced 911 for the iPhone was sent to Apple today for iTunes App Store approval. Once approved, Ten43 Technologies can place the app on the Apple App Store.